Former First Lady Barbara Bush Laid to Rest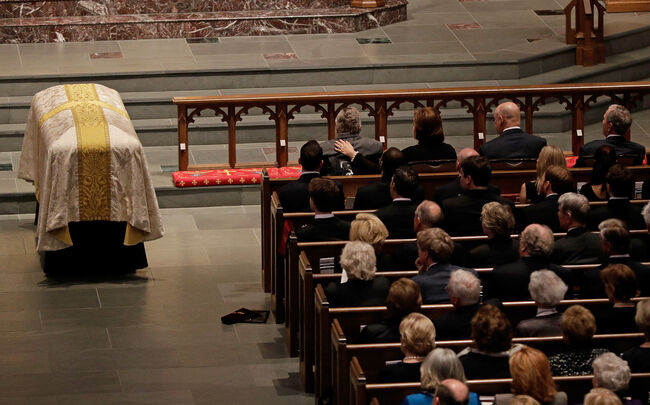 Hundreds of mourners gathered together today to remember the life of former First Lady Barbara Bush. Her husband of 73 years arrived in a wheelchair with the help of his sons, former President George W. Bush, and former Florida Gov. Jeb Bush, along with other members of the Bush clan.
Also in attendance was two other former presidents - Bill Clinton and Barack Obama - who were there along with their wives. Current First Lady Melania Trump was also there. The White House said President Trump would not be attending to "to avoid disruptions due to added security," and out of respect for those family members and friends attending the service.
About 1,500 people were expected at the private funeral service on Saturday at St. Martin's Episcopal Church in Houston. Bush and her family worshipped at the church, which is the largest Episocopal church in the nation.
Historian Jon Meacham delivered a eulogy in which he described Barbara Bush as the "first lady of the greatest generation." Meacham said Bush was "candid and comforting, steadfast and straightforward, honest and loving."
Officials say more than 6,200 people came through the church on Friday to pay their final respects to the former First Lady who died at her Houston home on Tuesday. She was 92-years-old.
Photo: Getty Images